The Voyage Of Doctor Do little is an upcoming Hollywood animation movie directed by Stephen Gaghan, who worked from an earlier draft written by Tom Shepherd. The story is based on the 1920s children's books by Hugh Lofting, which has previously been adapted for the big screen with Rex Harrison playing the character in 1967 and Eddie Murphy take up the mantle for films in 1998 and a 2001 sequel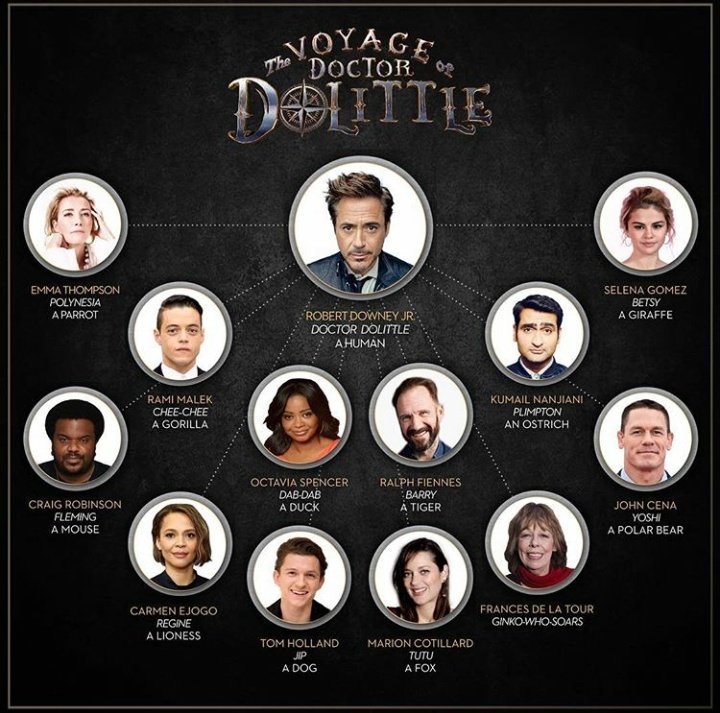 Movie Info:
The full cast list for Universal's The Voyage Of Doctor Do little has been unveiled via Robert Downey Jr's official twitter feed! The movie is currently in-production and scheduled for a April 2019 release.
Star Cast Voice:
Stars include Kumail Nanjiani, Octavia Spencer, John Cena, Rami Malek, Craig Robinson, Marion Cotillard, Frances de la Tour and Carmen Ejogo.
Previously announced stars include Selena Gomez, Tom Holland, Emma Thompson and Ralph Fiennes.
Michael Sheen and Antonio Banderas will be starring in live-action roles alongside Downey, who plays the titular doctor.
Genre: Animated Movie
Release Date: April 12, 2019
Runtime:
Box Office Budget: 
Joe Roth and Jeff Kirschenbaum are producing via their Roth/Kirschenbaum Films, alongside Susan Downey for Team Downey.
The Voyage of Doctor Dolittle is slated for an April 12, 2019 — three weeks before Downey brings Tony Stark to the big screen once again for Marvel Studios' Avengers 4.
Official Trailer Movie -The Voyage Of Doctor Do little (2018 Film) Yet To Be Released Soon
Similar Posts: