Uncategorized
The Princess and the Matchmaker (2018 Film) – Korean Movie
The Princess and the Matchmaker (2018 Film)
The Princess and the Matchmaker is an upcoming 2018 South Korean romantic comedy movie directed by Hong Chang-pyo. The film stars Shim Eun-kyung, Lee Seung-gi, Kim Sang-kyung, Yeon Woo-jin, Kang Min-hyuk, Choi Woo-shik and Jo Bok-rae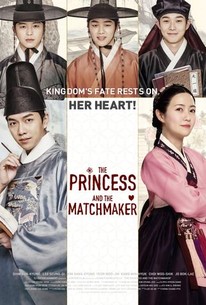 Full Info:
Movie Plot
In the wake of prolonged famine, the palace arranges Princess Songhwa's marriage in an attempt to correct the cosmic misfortune. A renowned diviner, Do-yoon, is brough in to find the perfect husband who will have the best marital harmony with the princess. From candidates all over the country, four prospective husands with different astrological signs are shortlisted. However, the princess refuses to accept that her life partner will be chosen solely based on fortune reading and decides to check out the candidates herself before the final decision. As she sneaks out of the palace, Do-yoon finds out about this and follows after her.
Main Cast:
Shim Eun-kyung as Princess Songhwa

Lee Han-seo as Young Princess Songhwa

Lee Seung-gi as Seo Do-yoon
The fortune-teller
Yeon Woo-jin as Yoon Shi-kyung
First candidate for Princess Song-hwa's husband. He is an ambitious man of ability.
Kang Min-hyuk as Kang Hwi
Second candidate for Princess Song-hwa's husband who is a gifted man with good looks.
Choi Woo-shik as Nam Chi-ho
Third candidate for Princess Song-hwa's husband, a warm and a polite man known for his filial piety.
Supporting
Kim Sang-kyung as King
Jo Bok-rae as Gae-shi
Park Sun-young as Young-bin
Lee Yoon-gun as Park In
Kim Do-yeop as Jo Yoo-sang
Kim Joo-hun as Yook Son
Park Choong-sun as Eunuch Jang
Cho Soo-hyang as Man-yi
Kim Do-yeop as Jo Yoo-sang
Lee Yong-nyeo as Court lady Han
Joo Da-young as Princess Yeo-hee
Min Areum as Princess 3
Son Seong-chan as Judge 2
Park Won-ho as Sang-moon
Lee Jung-hyun as Ugly man 1
Yoon Yoo-sun as Eu Ah-ri
Song Yeong-jae as Royal Observatory professor
Song Kwang-won as Princess 1's suitor
Lee Sun-bin as Princess 1
Special appearance
Choi Min-ho as Seo Ga-yoon
Park Jin-joo as Ok-hee
Production
company

Jupiter Film

Distributed by
CJ Entertainment

Release date

Running time

110 minutes
Country
South Korea
Language
Korean
Box office
US$9.3 million
Watch Official Trailer
Trending Now: