CHAN 2018: Nigeria Vs Sudan Match Live Scores, Results And Live Streaming
After defeating Angola with 2 goals to 1, Nigeria will be playing against Sudan today in the ongoing CHAN 2018 Semi Finals.
Lets Get Ready Another wonderful moment of excitement and entertainment of soccer games!!
Sudan and Nigeria have met 13 times and Yusuf's men enjoy an advantage of seven wins, four draws and have lost twice to the Flacons.
READ ALSO: CHAN 2018: Watch And Download Match Highlights, Results Nigeria Vs Sudan 31st January 2018
However, with a spot in the final up for grabs the encounter could go either way and history will not count on Wednesday at the Stade de Marrakech at 19:30 (CAT).
RELOAD This Page To Get The Latest Updates..
Who do you think will win the match?.. Drop your comment below
---
CHAN 2018 31st January Full Time Results: Nigeria 1-0 Sudan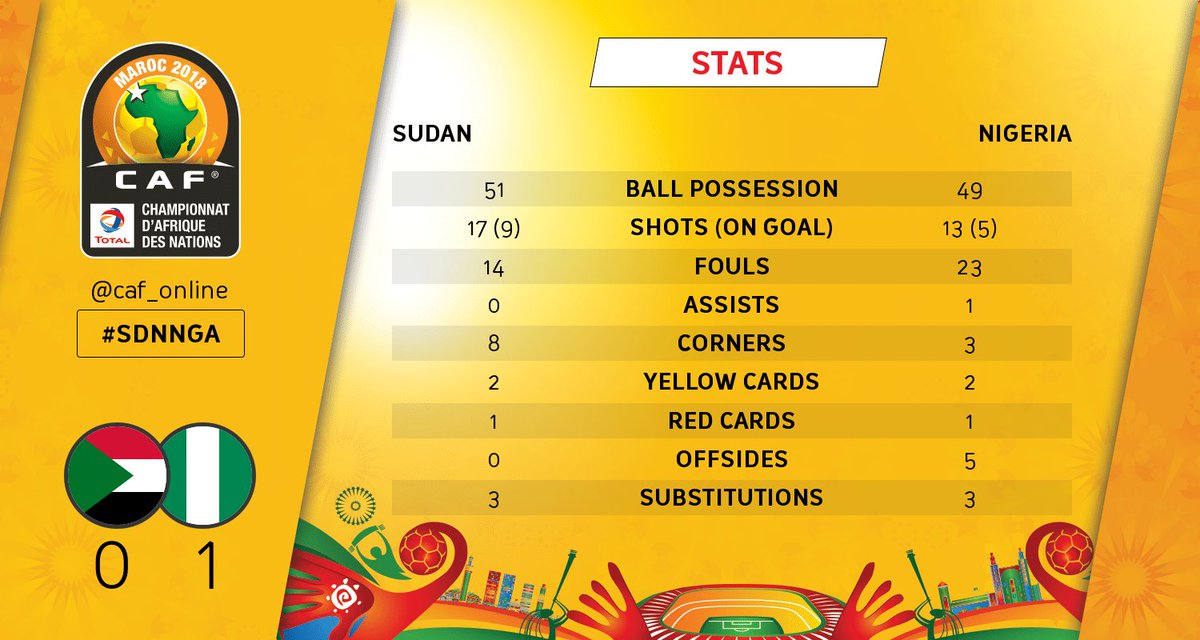 The Super Eagles will meet hosts, Morocco in the final on Sunday whilst Sudan are set to face Libya in the third-place play-off on Saturday.
90+2′ It is over in Marrakech. Nigeria 1-0 Sudan
90+2′ Ajiboye with another brilliant save from close range to punch it away for a corner. Sudan piling pressure.
---
87′ Another red card in the match for Bachir, a straight red for bringing Ojo down on the edge of the box from a counter attack.
---
84′ Ajiboye comes with a superb save to deny Saeed from close range to concede a corner.
---
80′ We are in the last 10 minutes of the encounter. Very few chances created by both sides.
---
77' Sub for Nigeria: Ibrahim on for Ali
---
76′ Sub for Sudan: UDA 15 18 Babikir on for Samawal
---
74′ Sudan enjoying the ball possession but unable to break down Nigerian backline. Nigeria 1-0 Sudan
---
66′ Sudan are slowly gaining an upper hand over their 10-man counterparts, but are yet to create clear cut chances.
---
66′ Sudan are slowly gaining an upper hand over their 10-man counterparts, but are yet to create clear cut chances.
---
64' Sub for Sudan: Gesalla off for Yagoub
---
62' Sub for Nigeria: Musa on for Okpotu
---
60′ Booking for Sudan's Omer
---
58′ Second booking for Ifeanyi. Nigeria down to 10 men.
---
53′ Sub for Sudan: Taher on for Abuuagla
---
51′ Booking for Samawal for a foul
---
50′ Nigeria's Ojo sees his effort at goal saved by Akram, they are pushing for the second goal.
---
46′ Second half resumes in Marrakech.
---
45+5′ It is half time in the second CHAN 2018 semi-final. Nigeria 1-0 Sudan
---
45+5′ Booking for Ifeanyi
---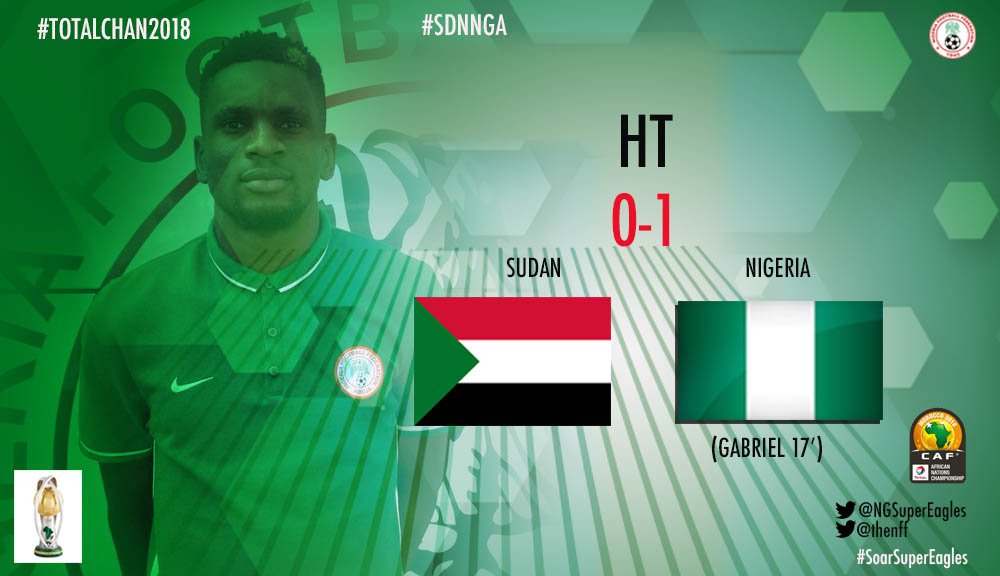 ---
45′ 5 mins added time to be played. Sudan 0-1 Nigeria
---
43′ SAVE! Ajiboye makes a brilliant save, stopping the ball from crossing the line, it was a strong header from Sudanese forward, Bashir. Sudan 0-1 Nigeria
---
43′ Two minutes plus stoppage time left for Sudan to find an equaliser in the opening half. Nigeria 1-0 Sudan
---
39′ The goalscorer, Gabriel receiving treatment.
---
36′ Sudan 0-1 Nigeri
---
35' Sudan with a good move on the right, good cross delivered and Bakhit Maki's header narrowly goes wide.
---
31′ Sudan 0-1 Nigeria
---
30′ Ajiboye was spotted by Idris off his line, the midfielder attempts a long range shot and the keepers recovers. Nigeria 1-0 Sudan
---
26′ Gabriel comes close to bagging a brace, his left-footed shot sails inches wide off the left corner.
---
22′ Corner for Nigeria, but Akram comes out to collect and receives a set piece for a push.
Okechukwu beat Akram from close range with a low shot after beating the defence with his pace.
---
19′ Okpotu had a chance to double Eagles' lead, after through ball from Ali. His effort is blocked by Sudan GK. Sudan 0-1 Nigeria
---
16′ Okechukwu Gabriel superbly slots home after wonderful flick by Toni Okpotu. it's Gabriel's second in the tournament
---
14′ Is A Goal!!! Gabriel!!!! The Eagles have gone 1 up.
---
12' Sub for Nigeria: Theophilus Afelokhai makes his way to replace Ezenwa.
---
10′ SUBSTITUTION: Ezenwa goes off, injured. He is replaced with Dele AJIBOYE. Sudan 0-0 Nigeria
---
09′ Ezenwa will not continue in the game. Signals are made for a change.
---
07' Ezenwa comes out of his line to make a timely save to deny Sudan's Mohamed Idris and the keeper is injured in the process.
---
6′ Eze blocks attempt by Sudanese striker. Ezenwa gets injured in the process. Sudan 0-0 Nigeria
---
1′ KICK OFF. Sudan 0-0 Nigeria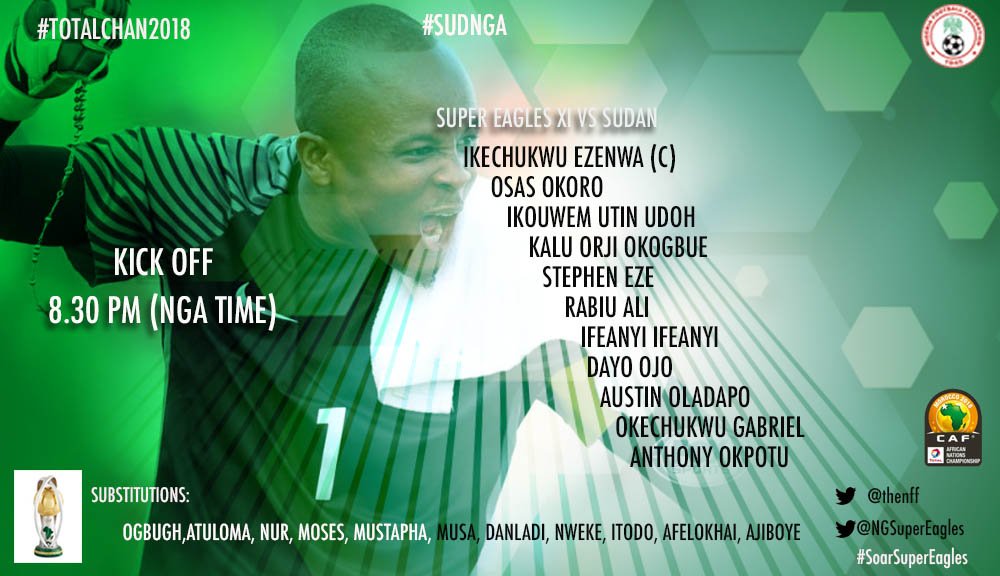 Similar Posts:
About Author
0 Comments
Write a Comment