Search Anything Below (Songs, Videos, Albums, Gqom, Amapiano)
How Detect Fake Samsung Galaxy S8
A fake Samsung Galaxy S8?
Yes, don't be that surprised, the market is full of them!
There's no doubt: the Galaxy S8 is the most popular smartphone of the moment and everybody wants to get their hands on it! And we can totally relate. The Korean manufacturer managed, for the third year in a row, to release an amazing handset, which was already praised by most tech authorities and users all over the world. Still, it has a tiny problem…It's expensive!
The fact that a Galaxy S8 doesn't come for cheap isn't much of a surprise, because, after all, we're talking about a flagship, which basically is a smartphone offering the latest technologies and a premium design. And believe us, it's not cheap to build one either, so the manufacturer needs to make a profit.
A lot of people, in their attempt to get one, start looking for offers in various sources, including eBay, Craigslist or even some shady sites where they will eventually find some great deals. To be more specific, some of them are actually too good to be true! Potential buyers can get unlocked Samsung Galaxy S8 units for ridiculously low prices, thus raising some serious question marks.
Because things are not always fair in life, a lot of them end up buying replicas of the original Galaxy S8, which are just some cheap knockoffs, just looking like the actual phone, fooled by a small price. But this situation can be avoided!
We've put together a short guide on how to spot a fake Samsung Galaxy S8, if you prefer buying it from another place than an authorized dealer. Let's begin, shall we?
Check the box
Presuming that you will receive the phone in the original box, it should be enough to give you a few hints about the phone's quality. The original box is completely black and has 'S8' written on the front, in a shiny blue font. Also, the entire name of the phone is mentioned in the upper left corner, written in white, while the storage capacity is on the bottom left corner, also in white.
As for the back of the box, it has a lot of information about the handset, as you can see in the image below: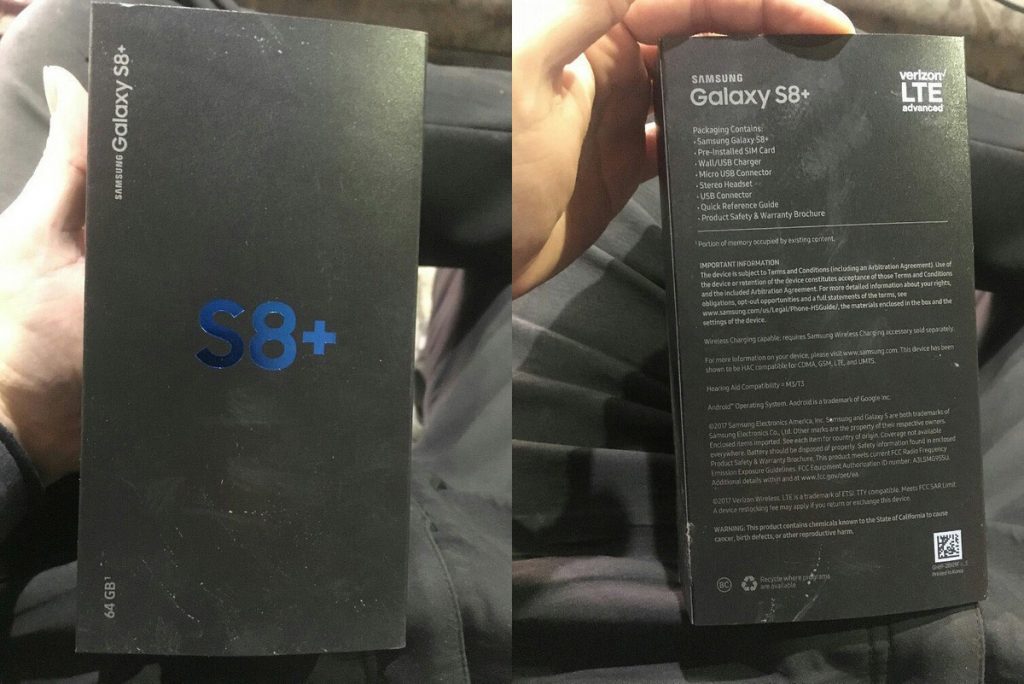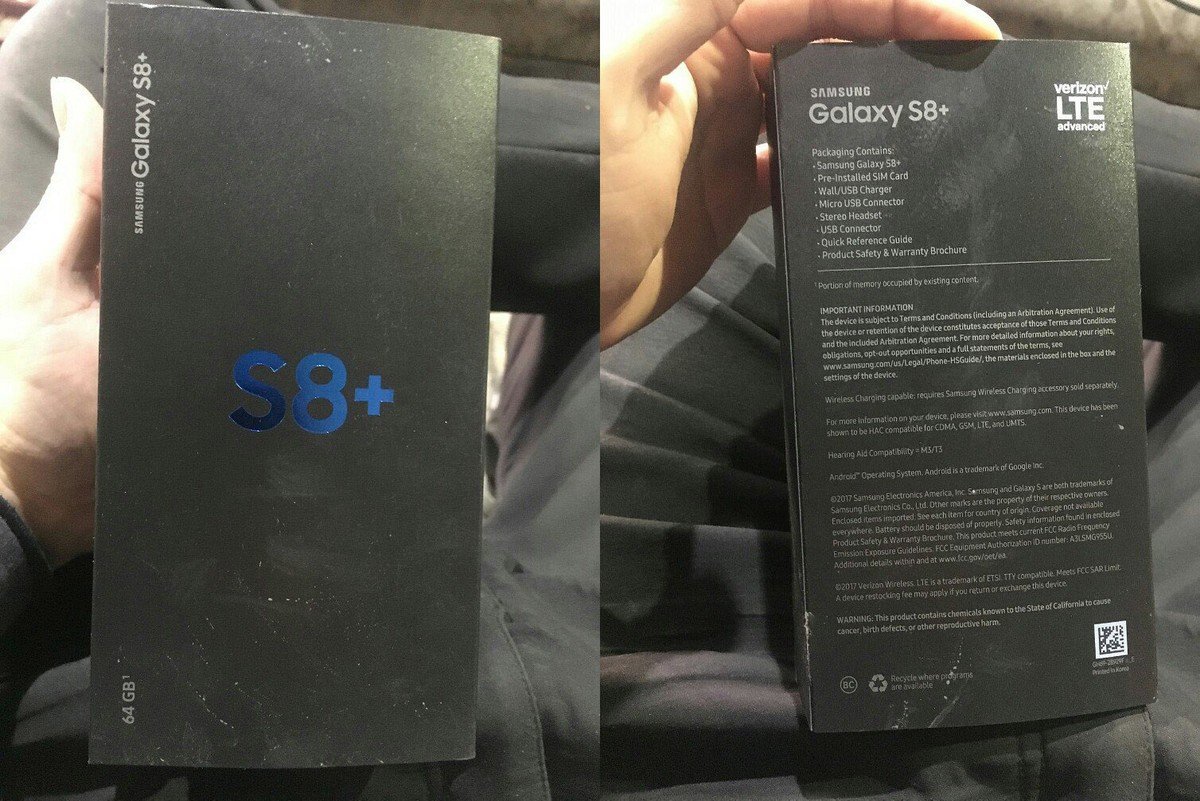 In order to have an even clearer idea about these fake boxes, check out this image. We'll let you decide which one of these houses a fake Samsung Galaxy S8…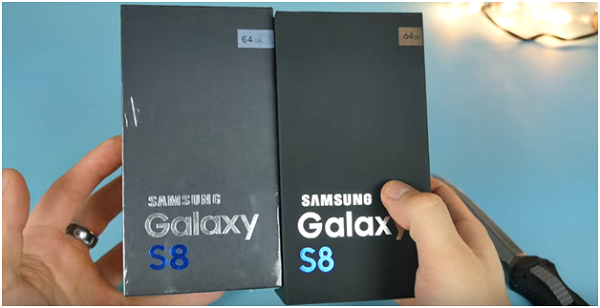 However, there are a lot of scammers out there, who can sell a cheap copy in an original box, so let's move on to the next aspect you should check.
Check the accessories you get in the box
A genuine Samsung Galaxy S8 comes with several accessories in the box, as well as some paperwork. To be more specific, you should get:
Wall/USB Charger
Micro USB Connector
Stereo Headset
USB Connector
Quick Reference Guide
Product Safety & Warranty Brochure
If you're missing any of these, from a sealed box, we have some bad news for you: you're about to buy a fake Samsung Galaxy S8.
Check the USB port
If you are allowed to open the phone's box, there's one first thing you should check: the USB port. As you probably know, the Samsung Galaxy S8 has a USB Type-C port at the bottom, like most recent flagships (and not only) do. To be more specific, it should look like this:
However, a Chinese knock-off will come with a microUSB port, like older models. If the one you're about to buy also has one, stay away from it and search elsewhere.
Check the rear camera setup
While a genuine model looks like this on the back, a fake Samsung Galaxy S8 will have a completely different camera setup.
If you see that the sensors aren't placed in the correct position, then it's obvious that the phone is a fake. Speaking about the camera, try taking some photos with it and see if the quality matches that of these sample images.
Look for the Bixby button
On the left of the phone should be a new button, beneath the volume buttons, able to activate Bixby, Samsung's personal assistant. If it's missing or it doesn't do anything, you're holding a fake Samsung Galaxy S8.
Check the Android version
A genuine variant of the phone comes with Android 7.0 (or higher) out of the box. Go to Settings > About > Software information, in order to check the version, and see if the one you're about to buy is showing the same thing. Usually, fake models have Android 6.0 or even older versions.
Compare the possible fake Samsung Galaxy S8 with an original model
If you're still suspicious about the quality of the phone, you still have one more thing you can try! If your seller agrees, take the phone to a shop that sells electronics and compare it with an S8 you can find there. Like this, you will be able to see if there's something fishy with it.
Watch the devices from all angles and see if there are any differences between them. All ports and buttons should be on the same place, while the weight should be the same, as well as the size. Don't forget to check for any other signs which you consider important. Just take a look at how some knockoffs look like:
And this wraps it up, folks! These should be enough to help any potential customer decide if the device they're holding and are ready to buy is a fake Samsung Galaxy S8 or the real deal. Hopefully, none of you will end up with a cheap Chinese copy instead of the actual flagship, but, nowadays, you never know…
What are your thoughts on these tips? Do you know any other aspects that should be considered before purchasing which we might have missed? Let us know about them, by dropping a few lines in the comments section below!
Similar Posts: